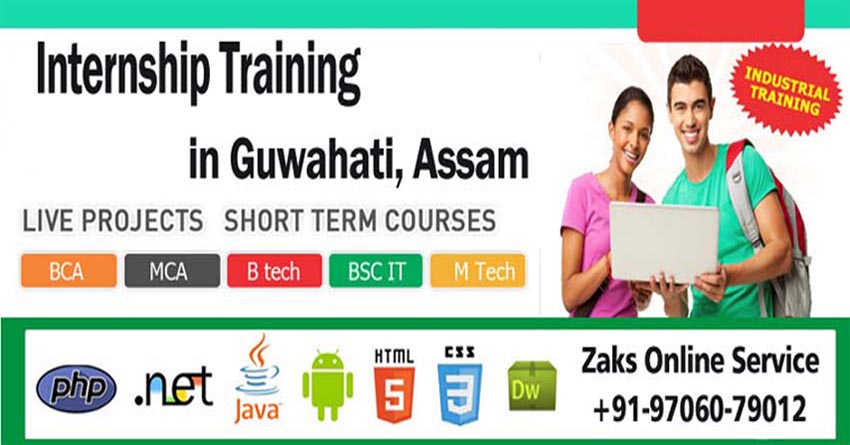 Project & Internship - Training
Zaks Online Service provide projects, internship & training to students pursuing MCA, BCA, BE, BTech, BSCIT, MSCIT, DOEACC, IETE, AMIE, course in Guwahati, Assam - by using latest tools, frameworks and programming languages like Java, Php, Asp, Jsp, JQuery, Angular JS, CakePhp, CSS .. Etc..
Apart from internship and training Zaks Online Service also offer project guidance to students, to implement their project using the latest programming languages and tools following the best practices of software engineering to develop a quality and bug free software application. Our Project guidance includes coding and development support only. Apart from this we also provide our students with free domain and hosting to make their projects available in the internet so that they can learn all the basics of developing applications as well as hosting sites to make them accessible over the internet. We only offer quality Project which enables our students to learn as well as get good marks..
At the end of six month you will get — Live Projects Experience Certificate and Future References. Bright candidates may get continuation as regular employee. Freshers or others who are doing course from private institute and looking for experience can also join the program.

Key Competencies: –
Knowledge of good software programming practices and principles.
Develop real time methods, classes, objects and assemblies.
Perform low level design or implement given module independently
Strong inter-personal skills and ability to work in a team based environment.
Sharpen analytical and trouble-shooting skills.
***Attention to details "This is a paid training-cum-recruitment program".***
How To Apply for Training
We select students for Internship & Live Projects by an interview process. Selected candidates are given opportunity to work on Live Projects. Selection Process Consists of a single interview round in which your technical & communication skills are observed.
Candidates can apply for internships & live Projects by sending their current Resume to info@zaksonlineservice.com or by Subimiting their details in our CAREERS section.
Tags:
MCA Projects | MCA PHP Projects | PHP Projects for MCA | MCA project Guidance | MCA Project Tuitions | MCA Database Project | BCA Projects | BCA HTML5 Projects, PHP Projects for BCA | BCA project Guidance | BCA Project Tuitions | BCA Database Project | BSCIT Projects | BSCIT PHP Projects | PHP Projects for BSCIT | BSCIT project Guidance | BSCIT Project Tuitions | BSCIT Database Project.
TESTIMONIALS

Every organization excels on the basis of publicity it gets or generates. Building a website was something that I really never believed could help in giving new dimensions to my Organization. The team of Zaks Online Service, Guwahati, has proved and done a great job. All the Best.
Sri A. R. Bora (Chairman)
ITI, SOUTH SALMARA


"I couldn't be happier with my choice of using Zaks Online Service, for my new website. Their team were easy to work with and helped me make a terrific website in a short amount of time.Thanks again guys for all your hard work I will recommend you to all my friends!"
Principal
L.G.B. GIRLS COLLEGE


There are design companies, and then there are user experience, design, consulting, interface design, brilliant, and professional. Zaks Online Service is by far one of the worlds best known brands.Working remotely was smooth and reliable.
Director
ARUNACHAL DIRECTORY

Web Designing Guwahati Assam | Website Designing Guwahati Assam | Mobile Apps Development in Guwahati Assam| MCA, BCA, BE, BTech, BSCIT, MSCIT, DOEACC, IETE, AMIE project Guidance in Guwahati | Internship & training for MCA, BCA, BE, BTech, BSCIT, MSCIT, DOEACC, IETE, AMIE in Guwahati | Bulk SMS Provider Guwahati | Ecommerce website in Guwahati Assam | Promotional SMS Provider Guwahati Assam | Android Mobile Application Development Services in Guwahati Assam | Website Development in Guwahati